A pivotal opportunity to become a Business Banker 
Apply for our Banking Associate Program and be part of a diverse cohort of professionals looking for a new start, a different direction, or a pivotal opportunity to grow a career in the business banking sector.

Through hands-on mentorship, guided training, and personalized coaching, you'll explore business banking and become a critical member of our team dedicated to serving our clients – business owners across Canada. This is your opportunity to leverage your financial know-how, collective experiences, resiliency, & passion for learning - to pivot your career.
Our program
Accelerated Career Pivot & Development Program

This accelerated developmental program is designed to equip individuals with the foundation needed to for a career in Business Banking. This role focuses on developing core-banking skills and provides credit structuring, credit underwriting, risk management while delivering client solutions with increasing autonomy and complexity over the course of a 12-month accelerator program.

Partnering with experienced finance professionals and leaders across the organization with direct executive sponsorship & involvement from the C-Suite. You will grow your financial foresight, develop under an experienced CWB leader, and foster a well-rounded network of diverse banking professionals.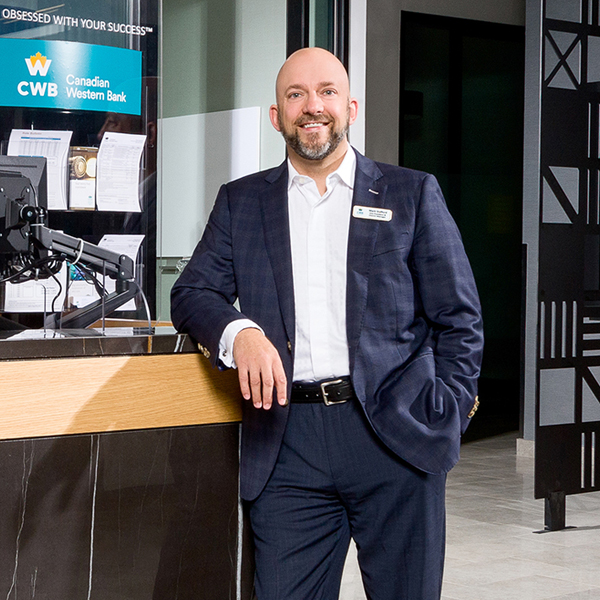 Program perks
A comprehensive rotational experiential learning & developmental program that accelerates you career in business banking. And that is only the beginning. At CWB, your career grows in proportion to your performance.
An accelerated compensation program with competitive salary reviewed every 6 months after graduation up to 2 years tenure with additional opportunities for annual performance incentives based on performance thresholds, a flexible benefits program and continuing education programs.
Dedicated support & extensive networking opportunities throughout the program with various touch points and interactions with program alumni, program owners, facilitators, educators, and senior leaders
Educational Assistance & Professional Membership fee reimbursement
Full access to CWB Coaching Services & CWB Career Services
Annual Conference
Top performers qualify for the Key Contributor Program & rewards
Is this opportunity for you?
You have know-how, common sense, relative lived & professional experience in financial services, engineering, financial analysis, project management, operational effectiveness, business development, credit analysis, non-profit business operations, lending, Business 101, portfolio management or something like that!
You may be:
A successful personal banker looking for a new challenge
Returning from a leave & want to launch a new career
Re-entering the workforce
A newcomer to Canada & want to continue your career as a finance professional

S

uccessful in cultivating relationships & generating sales results without a degree
Driven & looking for an organization where you can chart your own course, make an impact, & position yourself & your career for long term success

Who we are at CWB Financial Group
Lifelong learners.
The ongoing, voluntary, and self-motivated pursuit of knowledge. We seek out challenges, opportunities, feedback and are comfortable failing & failing forward, growing stronger with every experience to build successful momentum.
Client centric, collaborative & change ready.
We deliver outstanding client experiences at every interaction and execute on plans to continuously build a differentiated experience, in line with CWB's brand promise. We provide solutions for clients working seamlessly with colleagues and peers across our organization to deliver a united & unrivalled experience.

Relationship builders.
We go above and beyond to build deep and meaningful relationships. A client relationship is built on trust, and credibility is earned when you invest time and thoughtful consideration, adding value through care and attention. We know just as much about our clients' businesses as they do.

Problem solvers.
We provide clear and sound advice on practical solutions to complex issues. We draw from our collective expertise to deliver solutions & advice tailored to our individual clients' needs. There is no one size fits all-we have a wardrobe of options to explore. With custom solutions, & specialized knowledge, we help business owners feel confident in their financial success.
Winning aspiration.
We thrive in a dynamic environment arising from diverse responsibilities, intricate processes, multiple stakeholders, and shifting deadlines by using effective prioritization, planning, escalation, and collaboration. We thrive because we are proactive and purposeful. We have proven to be diligent, reliable, and perform with keen determination.

True #tealmates. We live & champion CWB values.
Represent the CWB Brand with honour and integrity, embodying our culture in a way that prioritizes collaboration and respects individuality. We are advocates & allies for all, actively promoting inclusion and accepting of all differences. Respecting all & each other, to succeed as one - oneCWB growing together.
Why CWB Financial Group?
Hybrid work environment with everyday flexibility & flexible work arrangements
It's a new world, and we're learning to embrace it! People are changing the way they work and connect, so at CWB, we're changing too. Join a team that lets you impact the future, grow to your fullest potential, be your authentic self, and connect with clients and colleagues in meaningful ways.
People-first benefits
At CWB, we know your life, downtime, family, adventure, recovery, and future are an important part of you. They're important to CWB too. That's why our benefits take care of your whole life, family included.
Wellness matters
We offer an award-winning benefits package that includes 100% company-funded health coverage, health care spending account, a flexible wellness program & generous time-away options to unplug, rest & recover.
You can bring your whole self to work
Inclusion is a journey requiring practice & experience to result in a powerful outcome. Your perspective matters & voice will be heard. Find a community within the CWB family in our employee represented groups.
Career development

We invest in our employees' development to help them reach their professional goals with organization wide Coaching services. Strategic career design is an investment in our core asset – our people.
Community giving
Make a difference. Drive economic prosperity in your community. Get involved. Volunteer. Fundraise. All with CWB support.
Competitive compensation
Base salary & pay for performance incentives. Retirement investment strategy. Company ownership. You can't work forever - so, we've got you covered.

Find your why at cwbcareers.com.